<table align=right width=165><tr><td>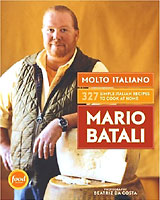 </td></tr></table>
Defending Mario
Who knew that Chef Mario Batali, the FoodTV luminary, would be so controversial? After I featured a trip to his flagship New York City restaurant, Babbo, in last week's FoodLetter, along with my variation on an oxtail recipe from one of his cookbooks, my E-mail box overflowed.
Some of you thanked me for bringing my perspective to a place where a lot of foodies have dined or would like to dine, and there were the usual questions and comments about the recipe. Somewhat to my surprise, though, a few of you wrote to ask, in short, "Why did you
do
that?"
All the critics were kind and constructive, and I appreciate that. Still, it's hard to ignore thoughtful comments like these from a former New Yorker: "
I was saddened to read about a Mario Batali-type restaurant in your column. ... This mass-media restaurant doesn't need hype. ... We want to know about the local places, not the TV chef places - anyone can find these and book ahead of time.
"
My old online pal Harald from Vienna added another perspective: "
Removing bones and gristle may be the secret of Babbo's cooking but it is certainly not in the spirit of Italian cuisine. ... I am sure the sugo was delicious. And most probably all the rest as well. But the joy of *** food is its absolute exclusiveness (and - sorry for that - the absolute impossibility to copy it as a hobby cook). So I rather stay with traditional Italian recipes.
"
These are legitimate questions that deserve candid answers. My response to the first question was that I thought long and hard about reporting on Babbo because Batali, after all, does get a huge amount of publicity on FoodTV. But the man has earned legendary status the old-fashioned way, I think, and - as your notes revealed - a lot of you are interested in my thoughts about his restaurant (well, one of them) and the food. The best thing about Batali, it seems to me, is that his enthusiasm and passion for Italian food and cookery transmits itself to viewers and readers, and inspires us to learn more about the cuisine ... and to cook it.
Harald makes a good point, too, that we never go wrong when we stick with the basics. But at the same time, it's the innovators who break new culinary ground by daring new ideas; if they don't all work, that's the price of progress. But I was impressed with the Batali method of "deconstructing" peasant meats like oxtails and pig's feet, turning them into something more refined, more suited for white-tablecloth service, and I had a blast reinventing his oxtail recipe for chicken thighs.
The proof of the pudding (or the ragu), though, came from a happy reader who made it at home herself: "
The dish was delicious! I'm not sure if I'll make it again - it was rather time-consuming to cut up the chicken meat into bite-sized pieces, though very tasty at the end - but I'm glad I tried it
."
And that, after all, is what this column is all about.
Just for fun, I've set up a poll on our Netscape WineLovers Community, inviting you to cast a simple thumbs-up or thumbs-down vote on Chef Mario. It just takes a second, and you don't even need to register to vote, so I hope a lot of you will take a moment to participate.
Click here to vote!
For today's recipe, please indulge me in just one more Batali dish - this one's more traditional,
Fettuccine Verdi ai Fegatini
from his most recent cookbook, the 2005 "
Molto Italiano: 327 Simple Italian Recipes to Cook at Home
." It's a meaty pasta dish indeed, a mix of chicken livers, pancetta and prosciutto dice in a thick sauce of white wine, onions and garlic with porcini mushrooms, served over green linguine, my substitute for Mario's fresh-made spinache fettuccine.
INGREDIENTS:
(Serves two)
1 ounce (30g) dried porcini
1 cup (240ml) hot water
1 ounce pancetta
1/2 medium onion
1 carrot
1 clove garlic
8 ounces chicken livers
1 tablespoon (15ml) olive oil
1/2 cup dry white wine
1 tablespoon tomato paste
1 bay leaf
2 or 3 whole cloves
1 fresh scallion
2 ounces prosciutto
Salt
Black pepper
4 ounces green (spinach) fettuccine or linguine
2 ounces grated Parmigiano Reggiano or Pecorino Romano cheese
PROCEDURE:
1. Soak the porcini in the hot water for 10 or 15 minutes, then drain, reserving the strained soaking liquid, and chop the reconstituted mushrooms.
2. While the mushrooms are soaking, mince the pancetta, chop the onions coarsely and peel the carrot and chop it fine. Peel and smash the garlic clove, and cut the chicken livers into small dice.
3. Heat the pancetta in the olive oil in a saute pan over medium heat until it has rendered its fat. Increase heat to medium high and saute the chopped onions and carrots and the garlic for three or four minutes, until they soften and start to brown. Add the chopped chicken livers and cook just until they lose their raw red color. Put in the wine, tomato paste, bay leaf and cloves and about one-third of the reserved mushroom water; bring to a simmer, then reduce heat and cook gently, uncovered, for about 15 minutes. (Mario calls for 30 minutes, but that seemed unnecessarily long to me.)
4. While the sauce is simmering, chop the scallion fine and cut the prosciutto into 1/4-inch dice. Start a pot of salted water boiling for the pasta. When the 15 minutes are up, add the chopped mushrooms and scallions and the diced prosciutto to the simmering sauce, along with a little more of the mushroom liquid. You want enough liquid to keep the sauce from sticking, but only just; this should be a thick, not soupy, sauce. Check seasoning and add salt and freshly ground black pepper to taste; it probably won't need much salt beyond that contributed by the pancetta and prosciutto.
5. Cook the pasta while the sauce simmers for another 10 minutes or so. Drain when ready and put the cooked pasta in the sauce, stirring quickly over high heat to bring it all together. Serve in warm bowls, topped with a ration of grated cheese. (Mario calls for the more robust Pecorino Romano, which should be fine with this dish; I used the always-on-hand Parmigiano because it was handy, and it worked well, too.)
WINE MATCH:
The earthy, meaty flavors in this dish and the wild-mushroom accent suggested a Pinot Noir, but it just didn't seem right to serve anything but an Italian red, so I pulled the cork from a
Rocca di Fabbri 2000 Rosso di Montefalco
, a blend of Sangiovese and the local Sagrantino from Umbria. It should have been great, but unfortunately the wine showed signs of having been "cooked," a good thing for food but not for wine. More about this in a coming
30 Second Wine Advisor
.
BUY THE BOOK ONLINE:
Mario Batali's "Molto Italiano" is available from Amazon.com in hardcover for $22.02, a 37 percent discount. Purchases made using
this exact link
will return a small commission to us at WineLoversPage.com.